Brush Review: Charm Travel PRO Set "Suzie Edition"
When I held a private beauty workshop for the ladies of KC FAPI, Beauty and Minerals generously sent over gift bags for raffling and discount codes for the participants. It was a basic workshop and the ladies were absolutely thrilled to start building their own makeup kits using the tips I shared with them.
For the workshop itself, they sent me the Charm Travel PRO Set "Suzie Edition" (PHP 2750) to use on the model, and I've been using that to do makeup in the car because I'm a loser who hasn't vacationed this year. Also, with Manila traffic, every venture out of my house can be categorized as travel :|
Charm Travel Pro Set "Suzie Edition" is a 14-piece kit, and comes with a brushed copper wallet case. The brushes have matte black handles and copper ferrules. Beauty and Minerals also offers 2 other iterations of the Charm Travel Pro Set: the Charm Travel Pro Makeup Brush Set (black, shiny reptile skin case; 14 brushes with hot pink ferrules and black-handled) and the Charm Travel PRO Sonia Makeup Brush Set (leopard print case; 14 brushes with gold ferrules and black-handles.
The Wallet Case
The zipper and inner lining is dark brown. It measures about 9" x 12" x 1" with just the brushes inside. The case looks like it can extend up to 2 inches thick and you need that space because the dust flaps for the brushes are built in with pockets! You can store makeup there, am I the only one who finds it crazy?! My whole face actually fits here. From powder compacts, to blushes, to eyebrows and mascara, lipstick, travel tissues - everything! I love love love this feature when I need to pack light and on the go.
I don't have a purse these days so when I do makeup in the car, I actually bring my can of brushes in a canvas bag and shuck the rest of my face makeup in. It's bulky, things are hard to find and it gets messy. I love how this kit really has the traveller in mind with a compact brush wallet, but at the same time allowed for makeup pouches so you can fill the extra space with makeup. I love not having to carry a second makeup pouch when I'm running toward the car.
The Brushes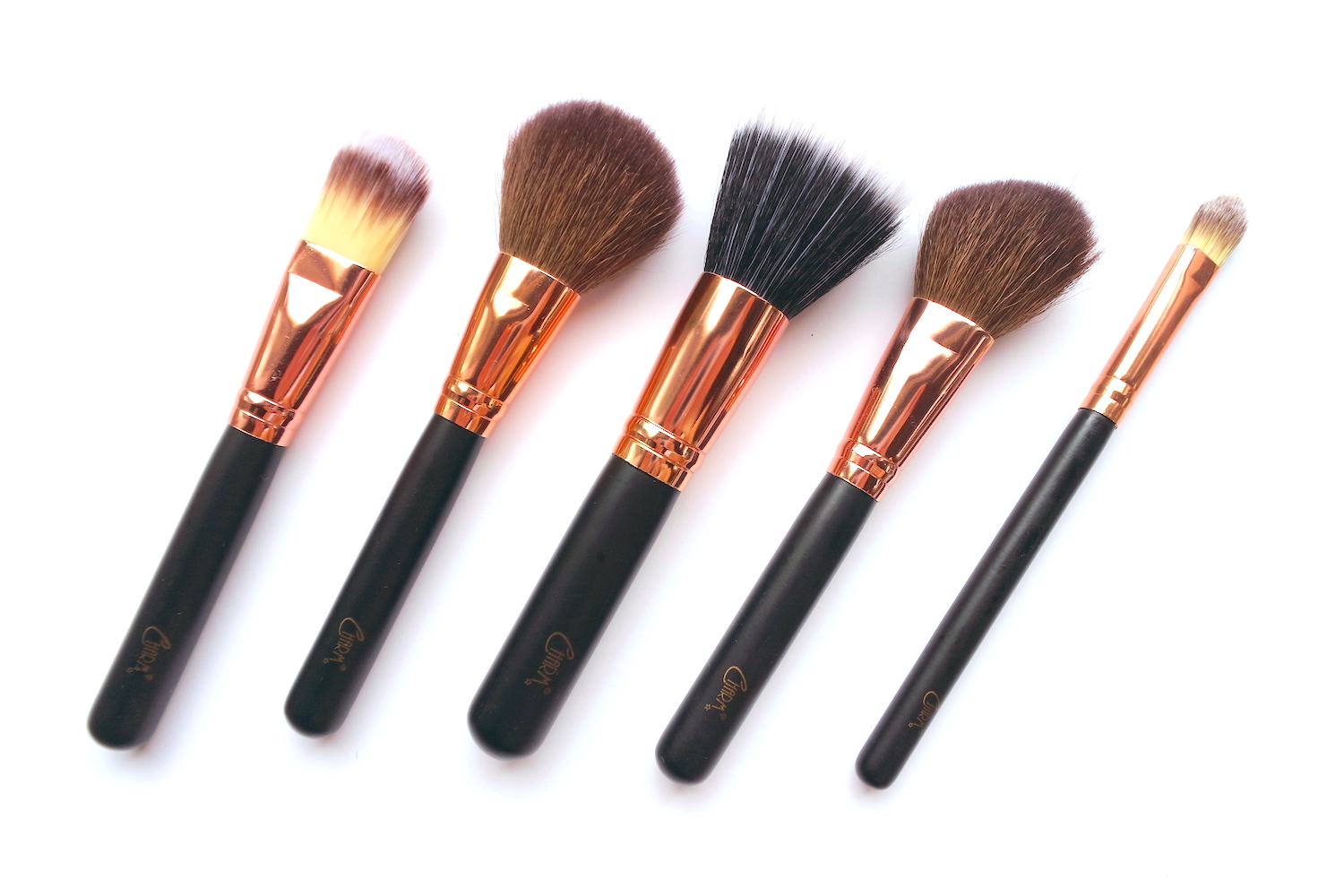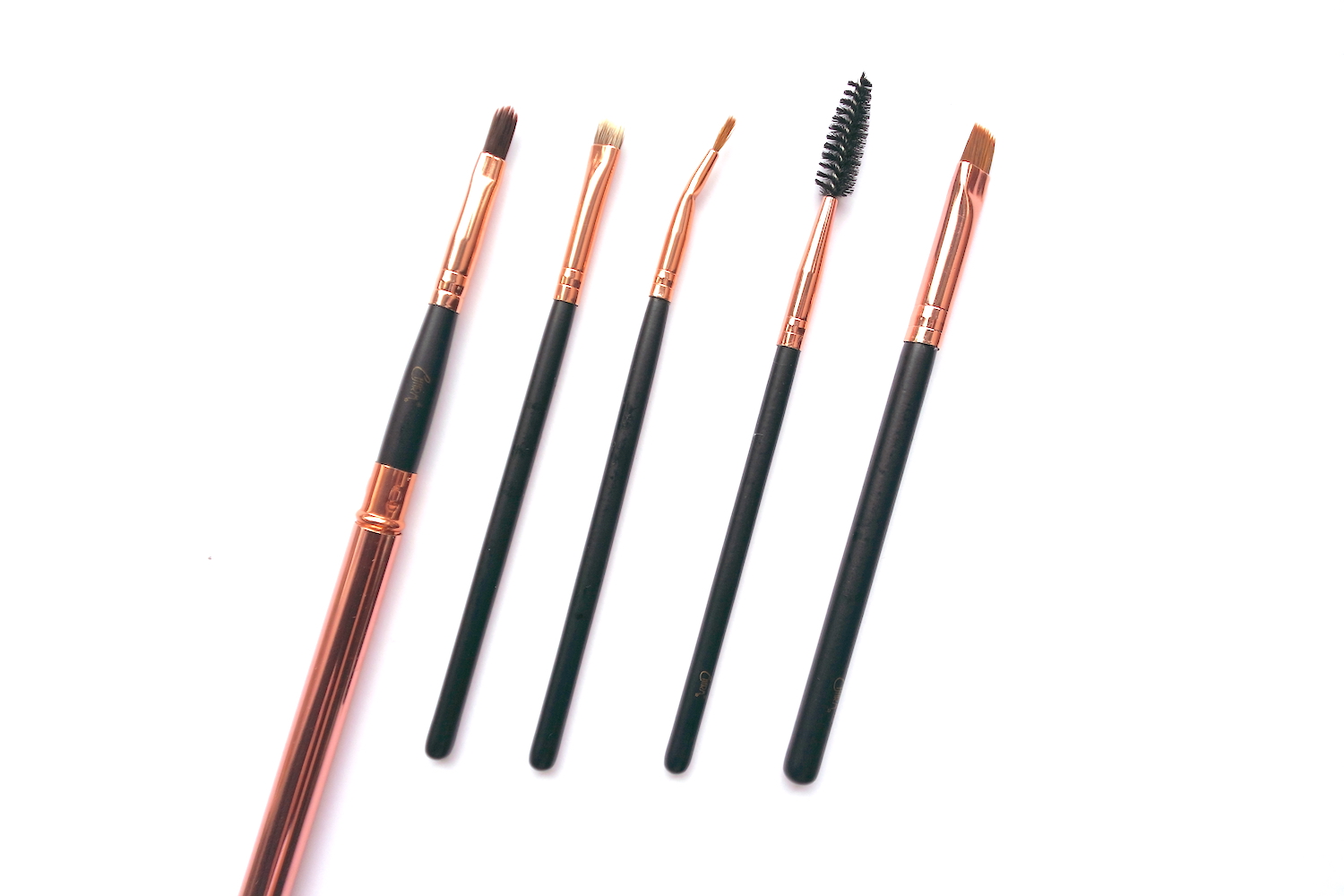 The brushes all have short handles, which is what you need to look out for in travel kits. Shorter brushes not only mean they're less bulk in the luggage, but they're also helpful for when you don't have access to your vanity set up, and need to put compact mirrors really close to your face. The kit contains a mix of natural and synthetic fiber brushes.
Face Brushes:
Stippling Brush - The kit comes with two liquid base brushes; this stippling brush and a paddle brush. I don't really like using a stippling brush for foundation, so I reserve it for diffusing highlight or finishing powder.
Powder Brush - This bled a little in the first wash. It was surprisingly soft for the price point, and I like how full it is. I can press powder comfortably on my face without the bristles poking me or folding over. I'd like a bigger brush head, but I also think anything bigger is no longer travel-friendly.
Angled Blush Brush - This has the same fullness as the Powder Brush. I had a bit of shedding with this one, even though it has the same fibers as the powder brush.
Foundation Brush - A good paddle brush is kind of thick and is well graduated at the head; which this brush is. It easily spreads liquid foundation on my face, and the smooth gradation doesn't leave as many brush streaks behind.
Concealer Brush - Similar to the Foundation Brush, it's full and graduated at the tip. I like how this lets it double for spot concealing and wide concealing (such as under the eyebags).
Eyeshadow Brushes:
Wet/Dry Eyeshadow Brush - It has natural fibers, so it's good for packing dry pigment, especially glitter for the center of my eyelid. I don't really find the need for a wet-use eyeshadow, but I think having this shape of eye brush is crucial for versatile eye looks.
Blending Brush - This is one of my favorites! It's so soft and has just enough tension for blending. I love swishing it on my eye area, even when I'm done blending, haha! It's a great dupe for the MAC 224 and Zoeva 228.
Pencil Point Brush - This is great for smudging dark shadow near the lashline, but it is a little too full and rounded out for my taste. As I have small eyes, I prefer something that tapers, so I can work on a smaller area.
Angled Eyeshadow Brush - I used to hate this asymmetrical brush shape, but with my recent eyeshadow leanings, I've learned to love it. It's great for blending transition shades near the crease and working on the outer v.
Miscellaneous Brushes:
Flat Liner Brush - I love how this is thin enough at the tip to work on tight areas, but have some kind of strength to draw straight lines. I use it to fill in my liner and draw my puppy tails.
Bent Eyeliner Brush - For personal use, bent eyeliner brushes are the best as they allow you to work with your hand away from your line of vision. I like that this has a thin enough tip for detailing. I use it to push liner on the gaps in my lashline and to draw the "skeleton" of my eyeliner shape.
Eyebrow Shading Brush - This is best used with powder, as it's not thin enough for eyebrow pomades. As the name suggests, it's better for shading (and blending) the brow.
Brow Spoolie - I rage about how spoolies are the first to go in travel kits. I'm glad they have this, and not as a dual-ended item.
Lip Brush - I like the length of the brush head as it allows me to paint on the lips without the product mooshing into the ferrules. The edges are clean and I am able to paint really good lines with this! However, I don't use it as much as the rest of the kit because I apply my personal lip products directly.
PHP 2750 for 14 brushes comes out to a 196 per brush - and still not accounting for the case. This price point often means scratchy brushes, bald brushes (those that don't have enough hair) or brush heads that are not well designed. I'm pretty happy that Charm is able to provide soft, full brushes at this price point. 14 pieces isn't exactly essential for beginners, but for people who don't want to give up too many brushes in travel, this is a great option.
+ number of brushes = flexible makeup looks
+ pockets for makeup on the dust flap
+ great size for travel - slim and compact
+ brush heads are comfortable and well-designed
- no plastic backing - putting back used brushes in the slots can be an issue
You may visit beautyandminerals.com to browse their other products.
This item was sent for editorial consideration.